Patrick Connelly is symbolic of what is good about the Grafton community. During his varied life where he co-founded the Royals Hockey Club, which celebrates its 40th year in 2020, has helped create a 'Midnight Basketball' drugs awareness program to get young people off the streets, and has still found time to be a Dame Edna Everage impersonator! Pat was awarded an Order of Australia medal for his services to the Grafton community earlier this year, and with it explains how lucky he feels in a life where he has given so much to so many.
Helping young people in the community
I am always thankful that I had parents that cared. Unfortunately, nowadays there are a lot of broken families and as a result a lot of kids are sadly neglected. I've found that young people just want someone to talk and listen to them, and it's unfortunate that a lot of them are not getting that – so they get into trouble.
Previously, I was part of a program called 'Midnight Basketball' that helps get year six to 12 kids off the streets by running the program every Friday night during school term time. It would start at around 6.30pm and we'd pick up the kids in a bus around town in Grafton and bring them to the local basketball stadium.
During the evening we'd supply the kids with a meal, and then we'd separate them into teams and do a round robin competition before taking them home. The only stipulation of being involved in the program is they had to attend a workshop on drugs or it could be related to music; for example, we had a session on how to play the bongo drums. The aim of the program is to let the kids know you care, because there are a lot of sad kids in broken families out there.
Founding the Royals Hockey Club
About 40 years ago, a friend of mine, Grahame Gill and I were members of another hockey club in Grafton. At the time that club had one top team and couldn't care less about the other members who weren't playing at the required standard. There were plenty of other players at the club who enjoyed playing but didn't get a chance to play. The point is it shouldn't matter if you weren't particularly good, it is all about getting involved in your local community club.
One thing led to another, leading Grahame and I making the decision to leave the club. We then made a few enquiries in Grafton as to who would be interested in joining a new club. We got a large number of young players at our first meeting – and that's how the Royals Hockey Club began. Next year the club celebrates its 40th year and what I am especially proud of is how it has outlived all the other clubs in the city; including the one Grahame and I left all those years ago! All we have ever wanted to instil in the club is a good club spirit of everyone being welcome, regardless of whether you had any ability to play or not.
Being a Teacher's Aide
In my job at the local council, there was the opportunity to take voluntarily redundancy as a lot of the staff were being moved to Port Macquarie – so I took up the opportunity. Then through the hockey club, I was asked whether I would be interested in helping out at Grafton Primary School as an aide. I'd never done anything like that before, even though I'd got on well with kids through hockey and basketball.
Following a stint there, where I helped a couple of challenging boys, I was asked by several other schools if I'd be interested in assisting them with some other boys with behavioural issues.
During my time as an aide, what I am most proud of is being able to keep one troublesome year 8 boy in the classroom, when all he did was act up and leave all the time. It started when I got permission from the Principal to take several boys down to the playing fields at lunch time to let off some steam. I made it very clear from the outset that if there was any trouble, those boys wouldn't be allowed back. With this one year 8 boy, I told him he could only take part if he stayed in class, which he agreed to and never broke his promise. I was really touched when they gave me an award at the end of the year – I felt I'd made a difference to the school and that boy's life. I've since kept in touch with him over the years, and he's doing well with his life from what I hear from his Dad.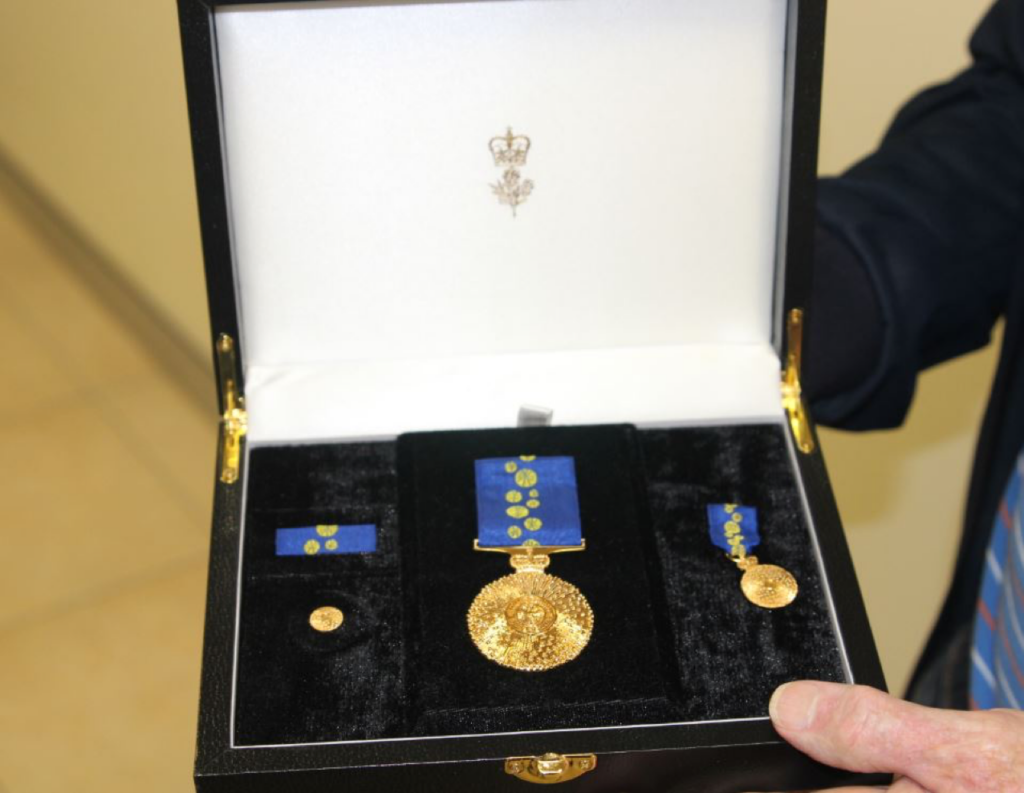 Hearing about the OAM
When I first heard I'd been nominated, I thought it was a joke… it was a hell of a shock! It was such a surreal experience, because it's something you don't expect or set out in life to accomplish. Once I received the initial letter and further follow up correspondence from Canberra, I knew then it wasn't a joke. It was very humbling.
The award has been a great honour, but more so when I discovered that two of my brothers, Kevin and Langton had also received Order of Australia medals. It must be rare for three members of the same family to secure the same award – three proud Bangalow born boys!
"Hello Possums!"
Those were the words I screamed in Canberra, when they announced the reasons as to why I was receiving the OAM – with 'Dame Edna Everage Impersonator' being one of them. It got a huge laugh from the auditorium and from the Governor General who presented me with my award! It really capped off what was a very special occasion for my family and I.
Banking with Summerland
I've been banking with Summerland for around 20 years and have always been very happy with the warm service I've received at the Grafton branch. Lisa helped me with my statements recently and she's always very approachable. John is also a great help, and it's good to catch up with him when he's down at the hockey club. I feel very grateful to bank with an organisation that cares as much about the Grafton community as I do.